Ongoing Field Studies
Lake Hazen (81° N), Quttinarpaaq National Park (Ellesmere Island, Nunavut)
Against a spectacular backdrop of mountains and glaciers on one side and the Hazen plateau on the other, Lake Hazen is situated on Canada's northernmost Island in an area considered both a polar desert (dry) and a thermal oasis (relatively warm).
The numerous wetlands, ponds, streams and lakes in the vicinity of the Lake Hazen base camp make this a great site for studying aquatic processes, and its location within a protected National Park far removed from any direct human disturbances means that it is also ideal for monitoring the impacts of climate and environmental change on sensitive Arctic ecosystems. Research facilities at the Parks Canada-operated camp include the newly built Lake Hazen Polar Field Research Laboratory. I have worked at Lake Hazen since 2005, studying aquatic, terrestrial and atmospheric processes pertaining to mercury and carbon cycling.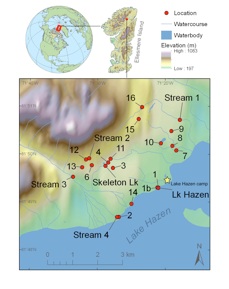 Map of study lakes, ponds and streams in the Lake Hazen region
Past Field Studies
Experimental Lakes Area (ELA, Northwestern Ontario)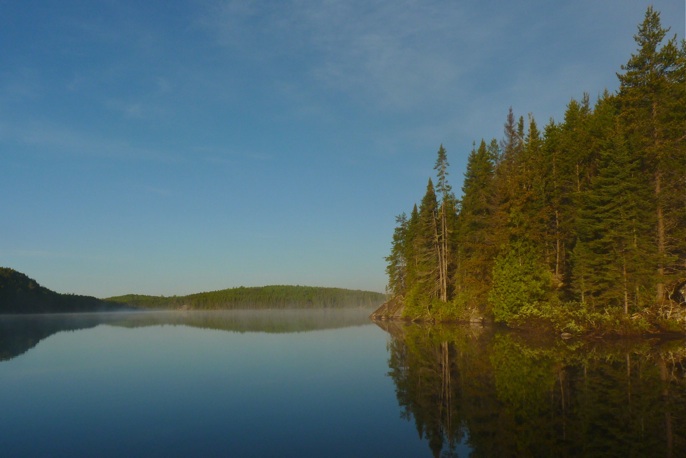 Now operated by the International Insitute for Sustainable Development, the world renowned ELA is located in a relatively pristine and remote region of the boreal shield, and includes 58 lakes and catchments set aside for scientific research (IISD-ELA). Numerous multi-year whole-ecosystem experiments on major environmental issues such as eutrophication, acidification, mercury bioaccumulation, endocrine disruptors, and reservoir creation have been conducted at the ELA over the past 40+ years. I first worked at the ELA in 2006 but recently had the opportunity to spend 7 months there in 2011-12 to study nutrient cycling in Lake 227, which has been the subject of a whole-ecosystem fertilization experiment to study eutrophication since 1969. I was also involved in a study (2005-2013) measuring atmospheric mercury concentrations using automated instrumentation deployed at the ELA meteorological site.
Marine Sites in the Canadian Arctic Archipelago and Beaufort Sea (Nunavut and Northwest Territories)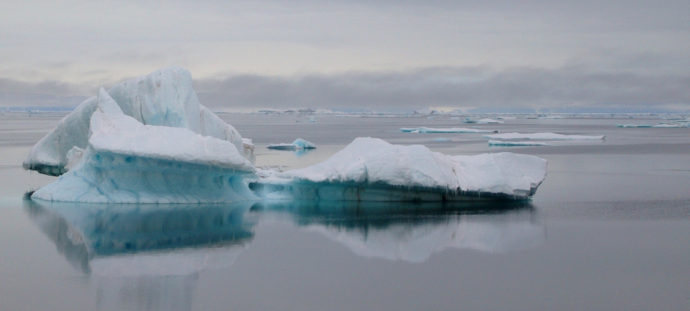 The CCGS Amundsen is an icebreaker designated specifically for polar research. In recent times, it has been navigating the icy waters of the Canadian Arctic Archipelago, including the fabled Northwest Passage, on an almost annual basis, providing a research platform for scientists studying the various physical, chemical and biological components of these unique marine ecosystems, including sea ice, climate, nutrients, contaminants, microbes, algae, marine fauna and foodweb structure.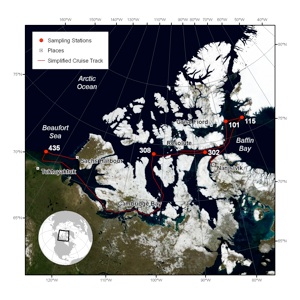 I have participated in oceanographic cruises aboard the CCGS Amundsen in three separate years, studying the distribution and transformation of toxic methylated mercury species in marine waters across the Canadian Arctic. For more information on the wide range of research conducted aboard the CCGS Amundsen to study the impacts of climate and environmental change on Arctic marine ecosystems, please visit the ArcticNet (a Network of Centres of Excellence Canada) website.
Map of oceanographical stations sampled during the 2007 cruise aboard the
CCGS Amundsen
research icebreaker